coast Hamburg
COAST HAFENCITY
coast Hamburg
Since its opening in 2012, the project has been bringing together two gastronomic concepts under one roof. Enjoying a sensational location right on the River Elbe, the coast enoteca is situated on the ground floor looking out over the "Elbphilharmonie" concert hall and HafenCity. On the upper level, coast by east boasts a spectacular interior with a wall covered entirely in real foliage and a giant window frontage, as well as a large outdoor terrace. Healthy dishes inspired by Asian cuisine are served here, with sushi and sashimi from the open sushi bar rounding off the culinary delights on offer. An open plan and innovative bar concept and a large selection of cocktails are just some of the other highlights that await at coast by east. With around 140 dining seats inside and 115 seats on the outdoor terrace, the restaurant can be booked for any occasion and any kind of weather.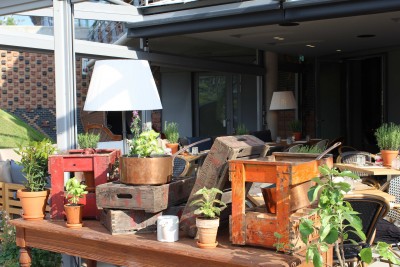 The coast enoteca on the ground floor offers plenty of space on sunny days with around 60 seats on its terrace with a roof and 60 seats without a roof, part of which is roofed, as well as affording a capacity for approx. 60 people in a cosy atmosphere inside the restaurant.
Blessed with a magnificent setting right on the waterfront with views of the impressive "Elbphilharmonie", the coast enoteca with its outdoor area is particularly well suited for private parties and events in the open air.
Looking for coast Hamburg's homepage?