design hotel& restauranteast Hamburg
EAST
east hotel
The 4-star superior design hotel east is centrally located in the heart of Hamburg's vibrant district St. Pauli.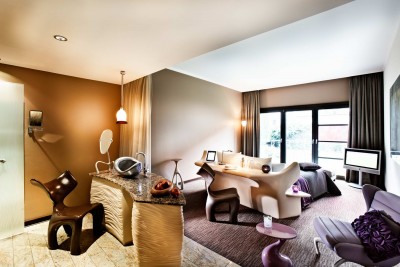 east hotel Hamburg: location & furnishing
From here, attractions such as the port, the river Elbe and Alster lake, the Landungsbrücken, Hamburg's famous Michel tower, the city centre with its shopping amenities, the Millerntor Stadium, the Reeperbahn and CCH congress centre are all just a few minutes away by foot or public transport.
Thanks to the design and furnishings of the American star architect Jordan Mozer, the east hotel Hamburg is also listed in the exclusive network of Design Hotels©. Situated directly alongside Hamburg's world-famous Reeperbahn, this outstanding building forms a microcosm of innovative design and Fast-Eastern charm coupled with Western industry. With 128 rooms and suites, the east forms a unique amalgamation of restaurant, lounges, bars and hotel.
Hotel & restaurant meets lounge & bar
The culinary delights on offer in the east Restaurant, with 230 dining seats, are wide-ranging. Top European cuisine sourced from seasonal and healthy products is fused here with the finest creative sushi and sashimi specialities from sustainable fisheries. The east Restaurant has long established itself as a trendy venue for Hamburg residents and hotel guests alike. The bar and lounge area is also a real hotspot in Hamburg's nightlife scene.
Wellness at east hotel Hamburg
Immerse in "east world" and take some vacation from the everyday life doing sports and wellness at east hotel Hamburg. When it comes to relaxation and well-being, the east Mandarin Body & Soul Spa is the perfect address. The sauna, relaxation area and sunny roof terrace are ideal for unwinding after an action-packed day in the city. In east fitness area, there is available a training space about more than 200m2 as well as a great variety of gym equipment.
Opening times
Breakfast
Monday to Friday from 6.30 am to 11.00 am
Saturday, Sunday and holidays from 7.00 am to 2.00 pm
Lunch at Yakshi's Bar
Monday to Friday from 12.00 pm to 2.00 pm
Dinner (Kitchen opening times)
Monday to Thursday from 6.00 pm – 11.00 pm
Friday and Saturday from 6.00 pm – midnight (Snack menu until 2.00 pm)
Sunday from 5.00 pm – 10.00 pm
Snack menu
Monday to Thursday from 2.00 pm – 11.00 pm
Friday and Saturday from 2.00 pm – 2.00 pm
Sunday from 2.00 pm – 10.00 pm
Yakshi's Bar
Daily from 8.00 am till open end
Bacardi Lounge
Tuesday to Saturday from 9.00 pm till open end
Bombay Lounge
Daily from 6.00 pm till open end
Friday and Saturday snack menu till 2.00 am