green friendsfreshlypicked
EAST
My little green friends
231014 | Redaktion
Freshly picked – my little green friends
Fresh equals flavour! The taste and aroma of fresh herbs turn any dish into a feast for the taste buds. Taste meets good living. Former east head chef Matthias Schmitt  – a big fan of those little green plants – shares some secrets of the herb garden with us.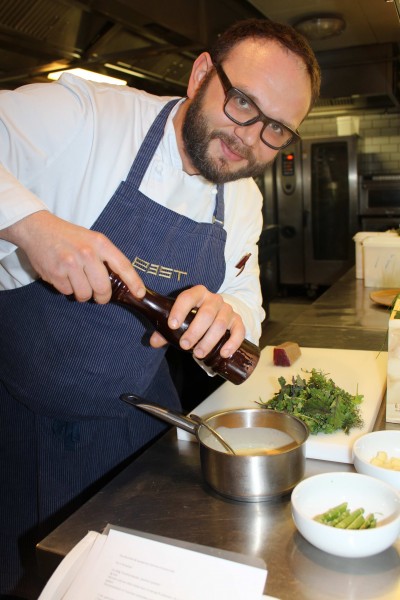 Matthias Schmitt has between ten and fifteen constant companions who turn up every morning at the east's kitchen. Some of his little green friends are quite well known herbs such as parsley, chives, basil and coriander. Others have unusual names: garden burnet, yarrow, shepherd's purse or white wall rocket. So the head chef is spoiled for choice when he conjures up enchantingly fresh
creations to tickle his guests' palates. Does he have a secret favourite? "Special types of herb always come along from time to time, and of course it rather depends on the time of year.
But basically, my favourites are coriander and parsley. Both of them make food taste incredibly fresh. Just thinking about lamb or vegetables seasoned with these herbs makes me hungry."
Fruit wholesaler C.D. Albers supplies the east
with the more familiar herbs – all sourced in
the region. This traditional family enterprise is
based in Hamburg Wholesale Market, generally
known as the North's Fresh Food Centre. The
head chef's more unusual green friends come
from the Keltenhof farm in Filderstadt near
Stuttgart. "We were looking for a supplier who
could create a customized micro leaf mix for the
crispy duck salad we were designing. The leaves
are harvested very young, when they're only
about 4 to 5 cm long and are even tenderer than
baby leaves. Keltenhof has a long history of
steady expansion and now sells salad leaves,
vegetables and herbs that have been cultivated
using integrated farming methods. During
harvest, transport and processing everything is
handled with utmost care and respect for the
product. We were impressed by what we saw."
Keltenhof produce is now to be found in
well-stocked shops throughout Germany. And in
Matthias Schmitt's opinion every household
should have a small selection of herbs in pots.
"You can always find space to squeeze in a
few pots of herbs. You don't have to do fancy
work when cooking. Simple, little details are
all you need. A few basil leaves on the pasta dish
immediately bring an additional burst of
flavour". For Asian dishes Schmitt recommends
Thai basil, because it has a pleasantly spicy note.
Alternatively, coriander. "Coriander is the
flavour we Europeans typically associate with
Asian cuisine." Depending on where the dish
originally comes from, Matthias Schmitt prefers
to flavour Mediterranean dishes with thyme,
rosemary, basil and parsley. "For recipes from
the South of France I also like to use lavender,
which makes the dish unbelievably fragrant!"
If you haven't got any herbs in pots, the head
chef at east recommends wrapping plucked herbs
in a damp cloth, then in cling film before putting them into the fridge. Unfortunately, the essential oils in these
healthy little wonders often disintegrate rapidly.
Therefore the first rule is: use them as soon as
possible.
Apart from their nutritious essential oils, herbs contain a lot of vitamins. Careful handling is needed to avoid destroying them. Always wash herbs in cold water, as little as possible but as much as necessary. As soon as you wash a fresh herb, it loses some of its water-soluble vitamins. "But that is true of any produce. The more gently
you treat it, the more goodness it retains." Why are these little green friends so good for us? Herbs and salads always grow above ground. They contain chlorophyll, which gives plants their green colour, and enables them to transform sunlight and carbon dioxide into glucose and oxygen. That means they have quite a bit to offer: many vitamins, minerals and phytochemicals. Some of the good things in herbs are vitamins C and B2, folic acid, iron, calcium, potassium and magnesium. Some of the substances in herbs are biomolecules such as carotenoids which protect cells and are very beneficial for the human organism. Every type of fruit or vegetable offers
a different mixture of these helpful, bioactive substances. The purity and concentration of phytochemicals is at its highest in herbs and spices. Parsley, for example, contains a great deal of vitamin C, which strengthens the immune system. So there are alternatives to hot lemon. To season food with plenty of fresh herbs every day is just as healthy." Meat, fish, seafood, vegetables, salad … what herbs go with each one? There are no hard and fast rules, because it's all a matter of taste really. "Chuck a bit in and away you go!" says Schmitt with a grin. He does, however, recommend that herbs be used sparingly enough to prevent one dominating the dish – instead they should complement and enhance the main ingredient.
.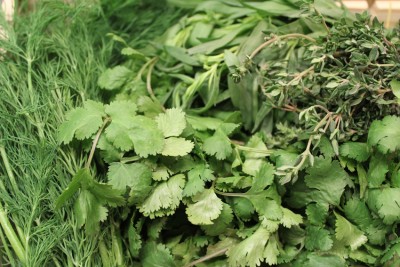 Fresh, light herbs such as chervil and tarragon work very well with meat and fish. Schmitt uses basil to make a tasty pesto, or adds roughly chopped leaves to salads. He is also very partial to the taste experience that the combination of thyme and seafood offers. Thyme is also a super herb for olives. And sea bass, says Matthias Schmitt, calls out for fresh tarragon. That adds a delicate nuance to the fish. Tuna tartare is refined
with a few chives. "As a member of the onion
family, chives add freshness and a slightly
hot edge." Veal cheeks can cope with crisp pesto vegetables. Basil jazzes food up – it can turn a rather homely steamed dish into an exuberant taste experience.
A salad of wild herbs, seasoned with no more
than lemon juice, olive oil and salt, is the ideal accompaniment to scallops. Every bite introduces a different herb, so each mouthful offers a new, excitingly
harmonious blend of seafood and leaf.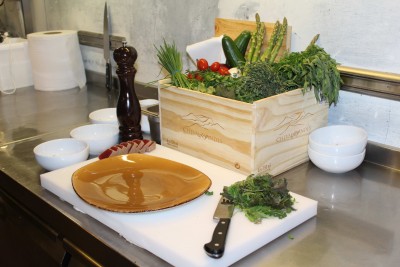 "For a slightly Moroccanstyle cod I use mint
and coriander. Mint adds freshness and is the characteristic flavour of Maroccan cuisine,
while coriander introduces the flair of
an African spice market." The same fish spiced with
rosemary and thyme would betray a Mediterranean
influence. "The exciting thing about my little green friends is that you can travel the world with them.They decide which point of the compass you head for. These
versatile, healthful little foods help us to reach new heights in quality, taste and the good life."
Exemplary mise en place, careful preparation,
aromatic result – fillet of tuna with vegetable
Fillet of tuna with lukewarm vegetable
and herb salad (2 Pers.)
A recipe by head chef Matthias Schmitt
Ingredients:
Dressing:
30 ml oil, 1/2 clove of garlic, chopped
10 ml white balsamic vinegar
1/2 lime – juice and zest
10 g mustard, medium hot
2 basil leaves
60 ml cream
1 egg yolk
Tuna fish:
2 tuna steaks, 160 g each, of
"sashimi" quality
Salt, pepper
Vegetable and herb salad:
1 boiled potato, diced
2 sticks of green asparagus, trimmed
1/2 red onion, cut into strips
6 cherry tomatoes, halved
1/2 cucumber, peeled, de-seeded
and cut into strips
1 spring onion, cut into rings
40 g mixed meadow herbs
30 g white wall rocket
Olive oil
Salt, pepper
Liquid egg yolk:
2 egg yolks
50 ml cream
Pinch of salt, nutmeg
1 tbs of chives
Method:
For the dressing: mix oil, garlic, balsamic
vinegar, lime juice and zest, mustard
and basil leaves and refrigerate for 12 hours.
Strain, stir in cream and egg yolk, add salt,
pepper and sugar to taste.
Season tuna and briefly fry on all sides
in small amount of oil then place in the
oven for about 4 minutes at 160 degrees C.
Cut into slices and arrange on two plates.
For the vegetable and herb salad: sweat
the asparagus and potato in a little olive oil,
remove from heat and cover with dressing.
Add onion, cherry tomatoes, cucumber and
spring onion. Season with salt and pepper
and marinate for about 2 minutes. Carefully
fold in the meadow herb mix and the
white wall rocket and dress next to the tuna.
For the LIQUID EGG y OLK, mix cream, salt,
nutmeg and egg yolks, gently heat and
add chives. Pour liquid egg yolk over tuna
and salad.
Enjoy trying this recipe and bon appétit.
Bon appetit!